Are you a traveler, a lover of arts, a historian, or an adventurist, seeking a place for an expedition? You might want to consider the Tomb of Ramses VI (KV9) in Egypt.
KV9 is one of the most visited tombs, not just in Egypt, but also in the world, having an intricately painted and well-kept-up wall objet d'art.
In this article, you'll embark on a virtual tour of this historic monument that has attracted thousands of tourists from all over the world.
This article contains information about:
Tomb of Ramses VI (KV9): A Brief Historical Background
Where to Find the Tomb of Ramses VI (KV9)
What to See at the Tomb of Ramses VI (KV9)
Cost of Entry into the Tomb of Ramses VI (KV9)
Tips to Getting the Best Out of Your Trip
Tomb of Ramses VI (KV9): A Brief Historical Background
The building of the tomb is attributed to two historical figures; King Ramses V and King Ramses VI. In the century 1147 –1143 BC, King Ramses V began the building of the Tomb in the Twentieth Dynasty. However, it is not certain if he was ultimately buried in the tomb. His uncle, Ramses VI (c.1143 –1136 BC) well along, used the tomb for his burial after enlarging the tomb from where his nephew left it.
At the first half of the tomb still appear the names and titles of Ramses V, giving glimpses and ground to assume that he was probably buried in the tomb.
Twenty years after burial, the tomb was ransacked, while Ramses V's and Ramses VI's bodies were both moved to Amenhotep II's tomb. Later in 1989, the remains of their mummies were found and taken to Cairo.
Where to Find the Tomb of Ramses VI (KV9)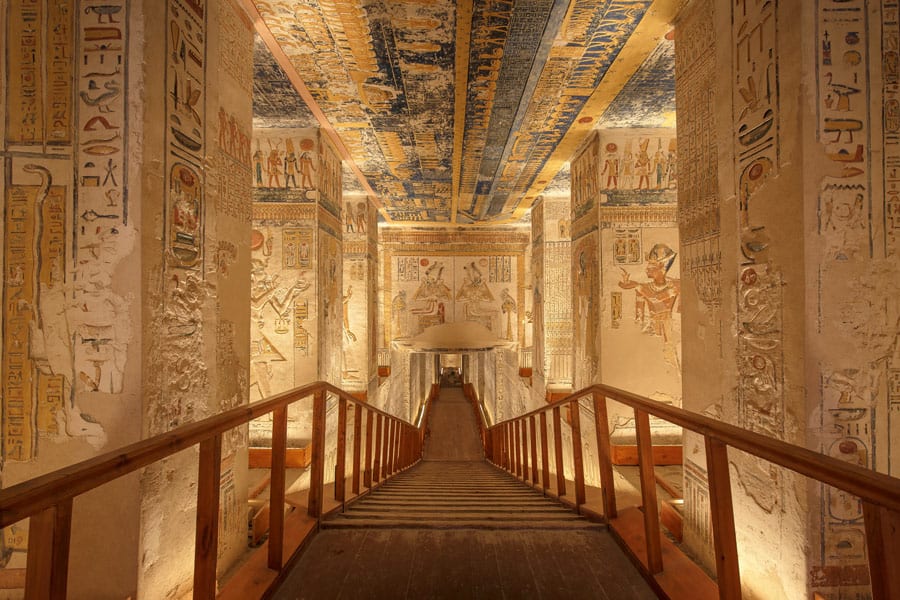 The tomb is located in Wadi Biban el-Muluk, in Luxor West bank, Valley of the Kings.
There are several means to get to the tomb; via car, rail, or bus. Once you arrive in Cairo, you can take a domestic flight that conveys you to Luxor. Some people choose to travel by land in order to get a sight of the environment as they travel.
Most tourists prefer flying into Cairo or Hurghada airports; this is because most flights from around the world frequently use these two airports. Other easier ways to go there involve getting help from tour operators. They will help make sure your trip is worthwhile.
What to See at the Tomb of Ramses VI (KV9)
The tomb consists of so many spectacular relics that will leave you thrilled. One of them includes extracts from the Book of Gates (ancient Egyptian text for funerals), the Book of the Heavens (book recounting the Sun's passage through the heavens), and the Book of Caverns (Egyptian book of the underworld) which covers the entry of the tomb, right into the midsection of the mausoleum and well room.
The wall is decorated with beautiful images of Ramses VI, along with various deities. Scenes from the Book of the Earth are also displayed on the wall, showing how the sun goddess progressed through the night.
On the ceiling is a beautiful adornment comprising the Book of the Day, and Book of the Night which is framed by a terrific twofold image of Nut. This nightly edifice portrays the sky goddess swallowing the sun each sunset, so as to give birth to morning. This endless cycle is believed to revive the souls of the dead Pharaohs.
Another remarkable feature to look out for includes the display of the sun god's enemies seen genuflecting around the base of the chamber walls. You'll see also, a dark-colored executioner who renders the decapitated bodies of the sun god's enemies helpless by turning them upside down.
Cost of Entry into the Tomb of Ramses VI (KV9)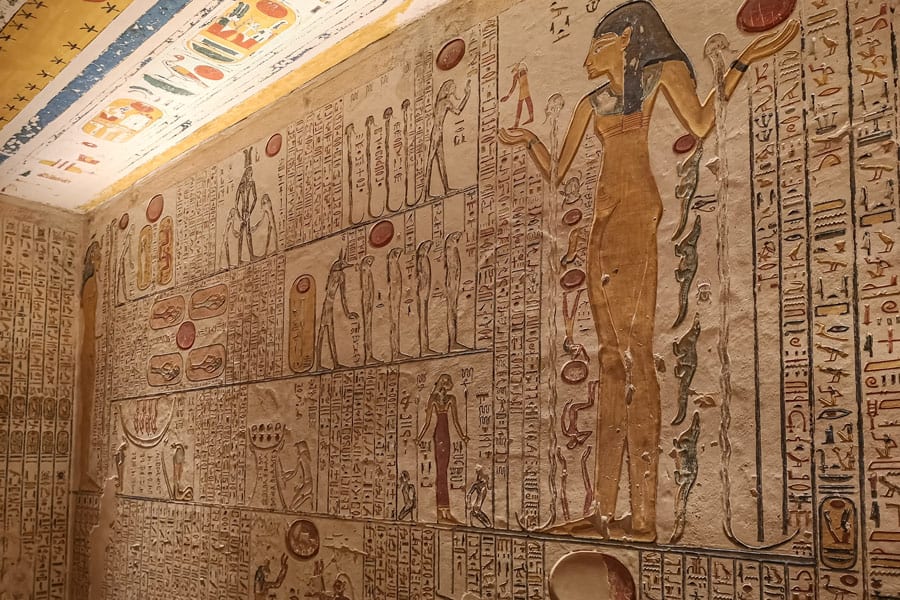 Entry into the tomb is strictly by tickets obtainable for a fee. There are different fees for different categories of people.
Tickets for Foreigners:
Foreign Adults are required to pay EGP 100.
Foreign students pay EGP 50.
Tickets for Egyptians/ Arabs:
Adults get tickets at EGP 30.
Egyptian students pay EGP 10.
Tips to Getting the Best Out of Your Trip
Here are a few tips to keep in mind as prepare to visit the tomb:
Seek Help from Traveling Experts
That you are reading this very article is an indication you need help going about your trip to Egypt. But, it doesn't just stop here. Chances are, you may need some more info as you begin the journey. This is why you need assistance from a traveling expert who will guide you throughout your trip and ensure it's all a success. You can reach out to us through our contact page for further details on how to go about it.
Take Care of Your Health
Traveling takes a lot from our health, which is why you must ensure you conduct a proper medical test before embarking on your trip. If you have a health condition such as pregnancy, asthma, etc. you might want to check in with your doctor. You may also need professional healthcare out of the country. It is advisable to check the latest healthcare advice from the specific country you want to visit. Visit websites like Travel Health Pro for important advice and tips to stay abroad.
Understand the Egyptian Culture
This is crucial, especially if this is your first time being in the country. Dig a little deep into their current culture which includes how they greet, what they eat, etc. This keeps you prepared ahead of time, and avoids any form of culture shock.
Opening Hours
Note that the tomb opens for exhibition from 6:00 AM –5:00 PM daily. So, you might want to plan your trip ahead of time to get the best out of it.
Prepare a Place to Stay Ahead of Time
Unless you are living within Luxor, you might want to make necessary preparations for accommodation especially if you plan on staying for long. There are a couple of options to choose from—hotels, villas, hostels, and friends/family—to get things in place before embarking on that trip.
Conclusion
The Tomb of Ramses VI (KV9) is definitely a place you wouldn't want to miss out on whenever you pay a visit to Egypt. This tomb houses one of the world's oldest historical documents. Familiarize yourself with all the necessary tips discussed earlier on so as to get the best out of your expedition.