Khan Al Khalili is one of the most famous markets in Cairo, Egypt. It is great to find souvenirs, gifts, and traditional Egyptian items. In recent years, the market has become increasingly tourist-friendly while maintaining its authentic feel. If you're ever in Cairo, swing by Khan Al Khalili for an unforgettable experience.
The History of the Khan al-Khalili
Khan Al Khalili was founded in the 14th century by the Mamluks, a slave dynasty that ruled Egypt and Syria from 1250 to 1517. The market was originally built as a caravanserai or a roadside inn where travelers could rest and trade goods. In those days, Cairo was an important stop on the trade routes between East and West, and Khan Al Khalili quickly became a bustling center of commerce.
As Cairo grew into a major metropolis, so did Khan Al Khalili. The market expanded to include more shops and stalls and eventually became one of the largest souks in the city. The Mamluks were known for their lavish lifestyle, and Khan Al Khalili was one of their favorite places to shop. They often buy luxury items like silks, jewels, and perfumes. The market was also home to many famous artisans who crafted beautiful objects for the Mamluk elite.
The Khan al-Khalili has a long and storied history. As one of the oldest markets in Cairo, it has witnessed some of the most important events in Egyptian history. It was here that the famed Egyptian explorer Ibn Battuta first set foot in Cairo. And it was also here that Napoleon Bonaparte stayed during his invasion of Egypt in 1798.
The market got its name from Amir Jaharkas al-Khalili, who built a khan or caravanserai here in 1382. However, during Sultan Barquq's reign, the market began to take shape. Barquq expanded the market and added many new features, including wells, fountains, and public baths.
What to Expect at Khan Al Khalili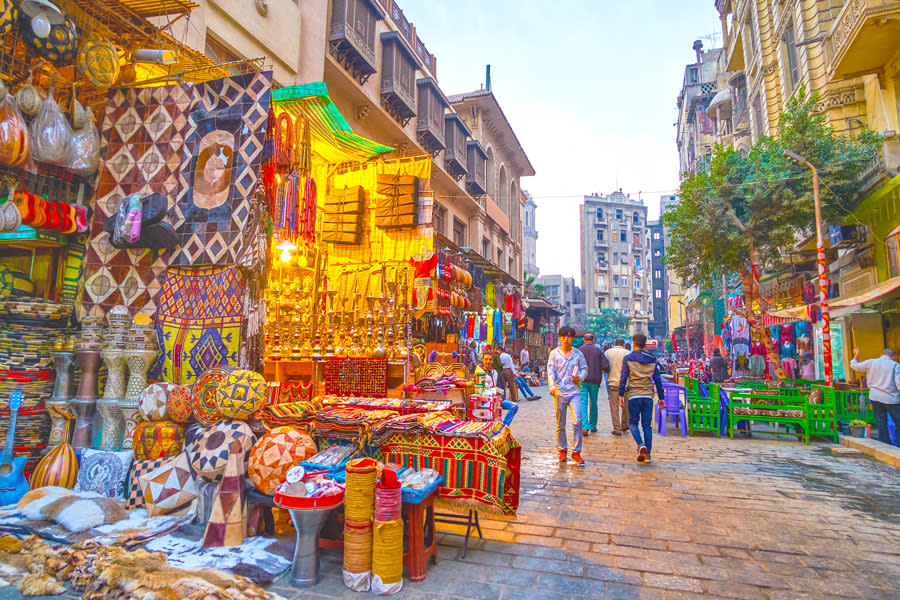 When you first enter Khan Al Khalili, you'll be overwhelmed by the sheer number of stalls and shops. It can be tempting to start buying things left and right, but try to resist. Haggling is expected and encouraged in this market, so don't be afraid to bargain with the shopkeepers. They may start high, but if you stick to your guns, you'll be able to get the price down to a more reasonable level.
The sky's the limit in terms of what you can buy at Khan Al Khalili. You'll find everything from traditional Egyptian clothing to hand-painted ceramics to spices and herbs. And, of course, no trip to Egypt would be complete without picking up a few bottles of perfume oil. Just remember to haggle like a pro, and you're sure to walk away with some great deals.
The Best Souvenirs from Khan Al Khalili
Whether you're looking for traditional Egyptian items like scarves and statues or more modern souvenirs like t-shirts and keychains, you'll be sure to find what you're looking for here. Here are some of our favorite souvenirs from Khan Al Khalili.
Traditional Egyptian Scarves
A traditional scarf is one of the quintessentially Egyptian souvenirs you can buy at Khan Al Khalili. These scarves come in various colors and patterns and can be worn as a headscarf or around your neck. They make great gifts and are perfect for keeping you warm during those chilly Cairo nights.
Handcrafted Statues
If you're looking for something a little more unique, why not pick up one of the handcrafted statues sold at many of the stalls in Khan Al Khalili? These statues are usually brass or copper and depict traditional Egyptian scenes or deities. They make for beautiful home decor and also make great conversation starters when guests come over.
Authentic Jewelry
Khan Al Khalili is also great for picking up some authentic Egyptian jewelry. You'll find everything from delicate gold bracelets to colorful beaded necklaces. We recommend picking up a Cartouche necklace if you're unsure what to get. These necklaces feature an oval-shaped pendant with hieroglyphics that spell out your name or the name of someone you love. They make for unique and personal gifts that will be cherished for years.
How to get there
Getting to Khan Al Khalili is easy, whether by taxi, bus, or metro. If you are taking a taxi, tell the driver your destination, and they will drop you off at the entrance to the souk. If you're ever in a new city and struggling to get around, the best way to not struggle is to take a taxi or an Uber. With these ride-sharing services, you can get wherever you need to go without worrying about figuring out public transportation or walking long distances.
If you are taking the bus, several lines stop near Khan Al Khalili. Finally, if you are taking the metro, the nearest station is Ataba. Whichever method of transportation you choose, you will surely enjoy your visit to this vibrant and historical market.
Sample Some Local Food while at Khan Al Khalili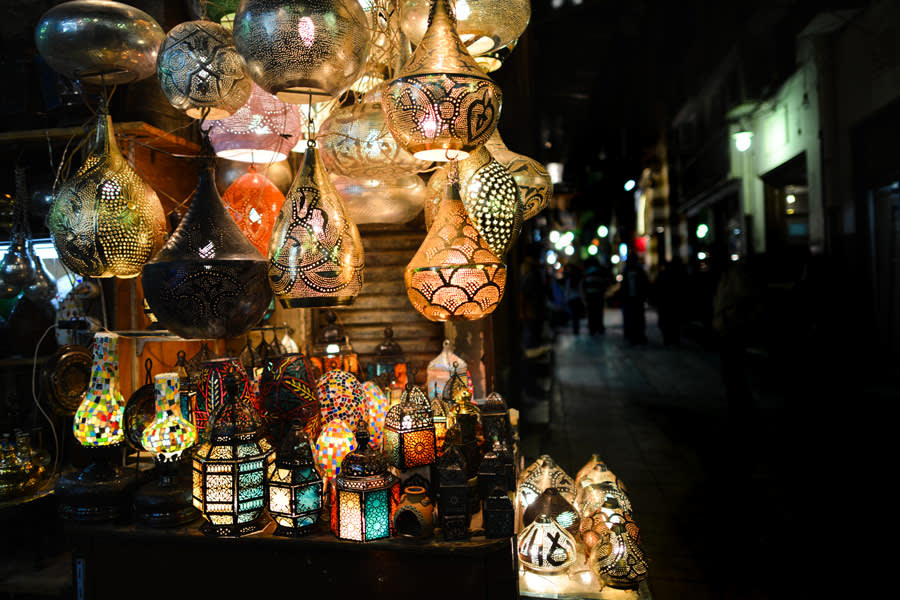 If you're looking for a quick and easy meal, plenty of options are available. Street vendors sell grilled meats, falafel sandwiches, and koshary, a dish consisting of rice, macaroni, and lentils topped with a spicy tomato sauce. For something a little more filling, try Ful medames. This hearty dish is made with fava beans that have been mashed and mixed with onions, garlic, and spices. It is typically served with bread or pita and makes for a delicious and satisfying meal.
Try the famous El Fishawi cafe. At that time, it was nothing more than a small coffee shop located in the heart of the Khan Al Khalili market. Mohamed al-Fishawi was known for being an excellent host, and he quickly developed a reputation for serving up the best coffee in town. The café became so popular that it attracted customers from all over Cairo, including many notable figures such as writers, poets, and politicians.
Over the years, the café has undergone several renovations and expansions. However, it retains its original charm, and it's easy to see why it's been such a popular spot for over 240 years. When you step inside, you'll be transported back to an era when hookah was all the rage and coffeehouses were social hubs where people came to discuss politics and literature.
These days, you can still enjoy a cup of coffee or some delicious hookah at Khan Al Khalili Al Fishawi café while taking in the sights and sounds of one of Cairo's most vibrant markets.
Conclusion
Khan Al Khalili is a must-visit for anyone spending time in Cairo. Its rich history and abundance of unique shops make it the perfect place to find souvenirs and gifts for your loved ones back home. And who knows? You might find a few things for yourself, too. Just remember to haggle like a local, and you will have a great time at this one-of-a-kind market.