Spending your honeymoon in Egypt might just be one of the best decision you have ever made. When people think of their dream honeymoon, the azure Island waters of Bali and Bora Bora instantly come to mind. However, Egypt can offer you this and more. Imagine being able to combine a stunning beach vacation with all of Egypt's magnificent historical sites, desert landscapes and striking architecture. From the heart of Cairo to the glistening Red Sea all the way to Upper Egypt, spending your honeymoon in Egypt will be an unforgettable one full of relaxations, stunning unspoiled nature and a wealth of historical gems.
Egypt's naturally romantic atmosphere and scenic sights make the perfect environment for a lovely and once-in-a-lifetime honeymoon. The diversity of locations and variety of landscapes, environments and cultures make Egypt the unique location that it is. Discovering it together with your partner is the perfect way to celebrate your new marriage.
Celebrating Love on Your Honeymoon in Egypt between Luxor and Aswan
Upper Egypt is not only beautiful in its unspoiled nature, idyllic landscapes and artifact-rich lands but also in its layers of history, with monuments stretching back more than 5000 years. Here is where civilization was born. It is quite a surreal experience to walk in the same footsteps of the great pharaohs millennia ago. The best way to experience all the ancient spoils and treasures is to go by Nile Cruise. A luxury Nile Cruise sailing gently across the storied Nile is one of the most romantic experience.
You have the full luxury and comfort of the Nile Cruise while stopping at a leisurely pace to visit all the most important Ancient Egyptian monuments perched along the Nile's fertile banks. You get to lay back, completely unwind and get the full pampering trip with freshly-prepared meals all day long, excursions led by a trained Egyptologist and the most luxurious amenities. You get to pass by beautiful villages, ancient temples, unspoiled landscapes and more. Every evening the sky is illuminated with beautiful color while you are surrounded by the splendor of the great Nile. This would make the perfect honeymoon in Egypt and can be complimented by a tour of Cairo to get that historical dose.
If you do not prefer the Nile Cruise route, you can always opt for a luxurious hotel in Aswan. From there you can go on a number across Aswan and even make the most of it by going to the nearby Abu Simbel or even continuing the historical road trip by car and making your way to Luxor or the Red Sea for some beach relaxation.
A Romantic Whirlwind Getaway in Cairo for the Perfect Honeymoon in Egypt
The bustling metropolis of Cairo has a seductive chaos that is the perfect location for an adventurous couple looking to get a glimpse at some ancient world wonders, medieval Islamic history and a modern culture that is rich with beautiful traditions, lighthearted banter and a whole lot of chaos. Cairo is a very popular honeymoon destination among newylweds because of the intoxicating Nile, wealth of historical treasures, awe-inspiring architecture and of course more than 5000 years of ancient history. There is never a shortage of things to do in the buzzing city. From indulging in upscale eateries in Zamalek to unraveling the secrets of the Ancient Egyptians in Giza, Cairo offers a massive diversity of experiences that would keep any couple on their toes.
We recommend taking tours of all the Old Cairo attractions, making your way to Zamalek and Downtown Cairo to admire the vintage architecture, splendid nature and hidden history that fills its every street. Of course, the Nile winds through many parts of Cairo, meaning you can embark on a felucca at sunset and enjoy an unforgettable trip, passing by different parts of the city. Hop off and get on a carriage ride or go sit in a historic café and enjoy Cairo's unique night energy.
The Magic and Tranquility of the Red Sea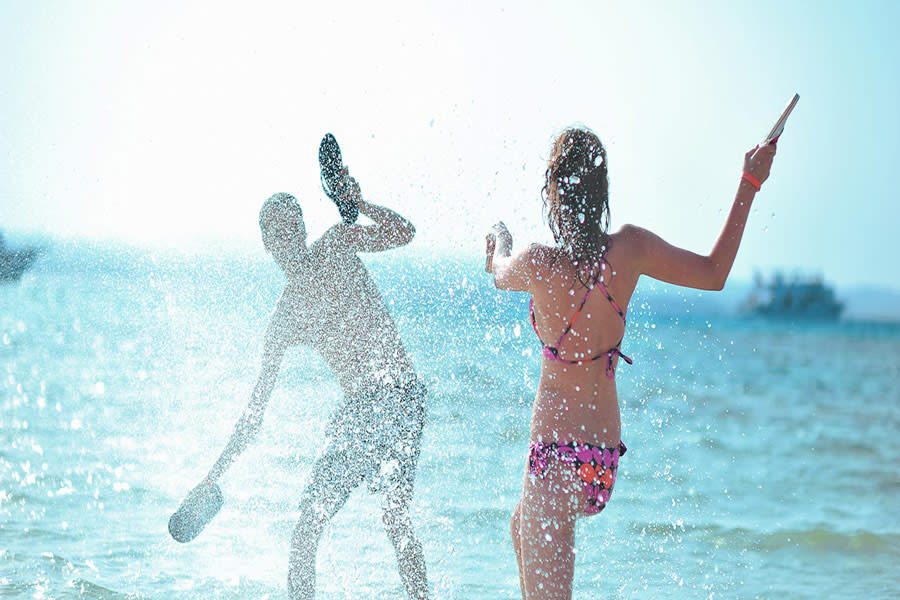 If you want to spend a classic honeymoon in Egypt that really emphasizes on relaxation and complete serenity, you should opt to include one of the Red Sea towns on your itinerary. Egypt's stretch of the Red Sea is littered with little vacation towns that have the perfect, romantic, laid-back environments where you can really enjoy each other's company without having to worry about organizing anything. It is all relaxation from here. El Gouna in the Red Sea is practically made for honeymooners. It has a cozy, secluded space, filled with world-class restaurants, lush sites, pristine beaches and luxury hotels. If you fancy luxury and pampering, this is the place to go. It's not just all relaxation. You have the opportunity to play a number of water sports and splash around in the calm water of the beach all day.
Sharm El Sheikh Has Nailed the Formula for the Perfect Honeymoon in Egypt
The most famous of all the Red Sea cities, Sharm El Sheikh is spoiled with luxurious resorts and five-star hotels, world-class diving locations and excellent restaurants. There is a wealth of activities that can be done in Sharm El Sheikh, from swimming in its calm waters to playing a number of water sports to diving and exploring the colorful coral reefs and aquatic water life.
Since you have close access to the nearby desert, you can also go on a desert safari or go a step further and head out to explore the Ras Mohamed National Park for even more adventures.
A Coastal Mediterranean Adventure in Alexandria
Alexandria has a delightful mix of Egyptian and Roman-era monuments, lively beaches and mouthwatering fresh seafood. The coastal city is a study in romance and has always been depicted as a romantic location for lovers. Explore royal gardens, the Library of Alexandria, and historic fortresses while making time to sit by the shore.
The food scene in Alexandria is full of world-class eateries and local dives serving up freshly-caught fish, international dishes and everything in between. Romance is alive and breathing here in Alexandria. Only a couple of days is enough to take in her romantic energy.