Egypt is brimming with fabulous beaches and divine resorts that most people have no idea even exists. The beaches in Egypt are mostly clustered around the Red Sea but there are a few select ones in the distance that also offer a different kind of experience and add a layer of uniqueness to Egypt's diverse terrain. A lot of Egypt's resort beaches are located in the Red Sea, meaning that it is super easy to take a connecting form of transportation to something historical like Luxor and Aswan in Upper Egypt.
When most people think of Egypt, the first thing that comes to mind is usually ancient pyramids, mystical Islamic architecture and sprawling desert landscapes. However, Egypt is actually full of amazing beaches with diverse terrains, wildlife and activities to explore. The best part about this is that you can combine together a historical and lively trip with beach relaxation for the ultimate, well-rounded vacation. Getting the best out of both worlds, you can relax by the beach before or after taking an adventurous trip through Cairo or Upper Egypt's wealth of historical gem and architecture.
South Sinai in particular is full of amazing resort towns offering seaside all-inclusive pampering all day long, azure super clear waters and stunning rocky mountains, offering you fun activities to do including hiking and camel trekking.. Sinai's underwater world is equally as astonishing to tourists as the perfect beaches and desert.
Sharm El-Naga Bay close to Safaga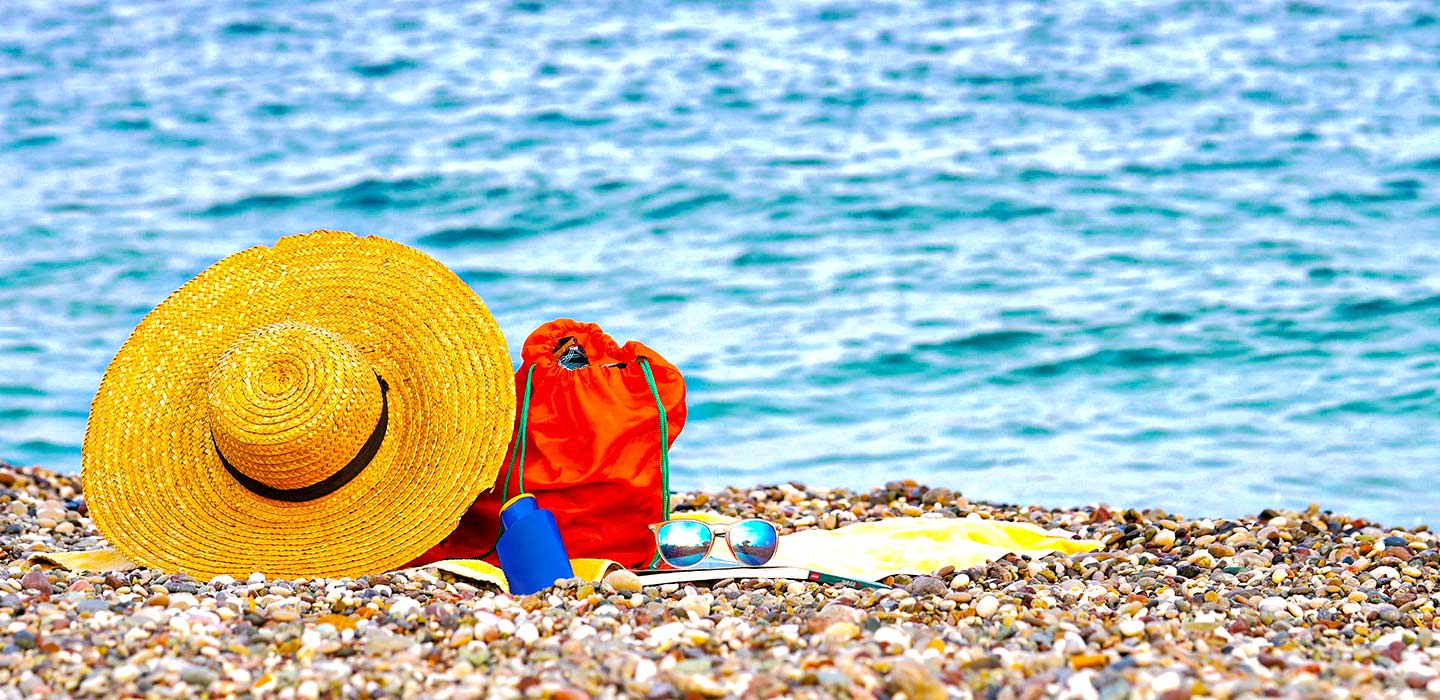 Only a one-hour drive from the popular resort town of Hurghada, the lesser-known Sharm El-Naga Bay is also very close by to its neighboring Safaga. What makes this bay so unique is that it has a lot of beautiful corals very close by to its shores, this makes diving and snorkeling very easy and accessible and allows you to avoid long trip to the middle of the sea with a boat. That is what makes it one of the most special beaches in Egypt and one of the most spectacular diving spots in the world.
Prepare yourself to see unbelievable wildlife and breathtaking colonies of unique corals. Of course, if you are not really into these underwater activities, this is still an ideal spot to just relax and swim in the water or hang out by the shore.
North Coast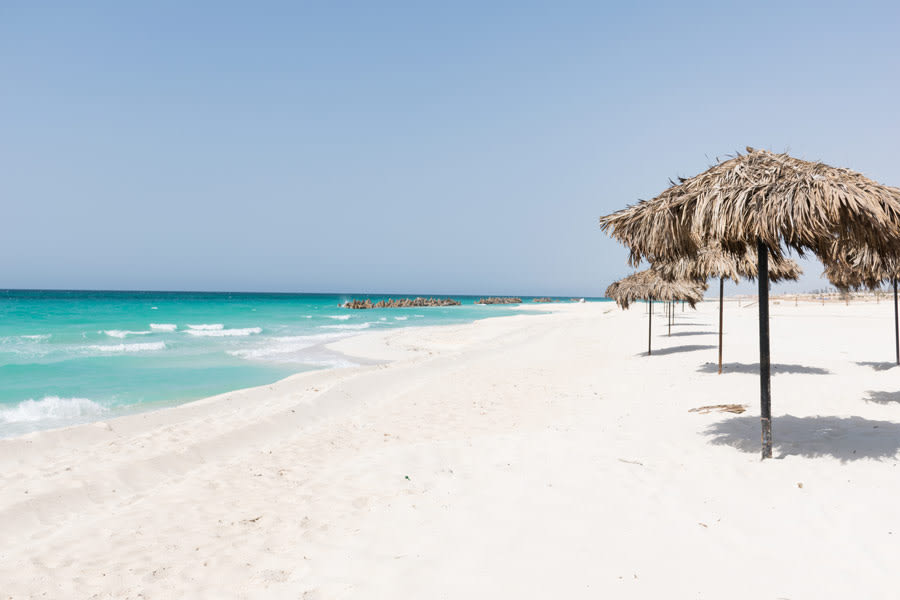 Egypt's North Coast harbors some of the most luxurious and pristine beaches in Egypt. It stretches for a whopping 1000 kilometers along the Mediterranean coast, a few hours past Alexandria. It is characterized by super luxurious sandy beaches, high-end restaurants and expensive fashion stores.
The shore is made up of a lot of luxurious private beach developments and five-star, world-class resorts. So if you are one who like the fancy things in life, this is for you. A lot of Egyptians flock here during the summer to enjoy the more pleasant climate, lower temperatures and amazing nightlife. Summer is when Sahel is alive and on fire, featuring a lot of international DJs and renowned parties.
Ras Shitan and Nuweiba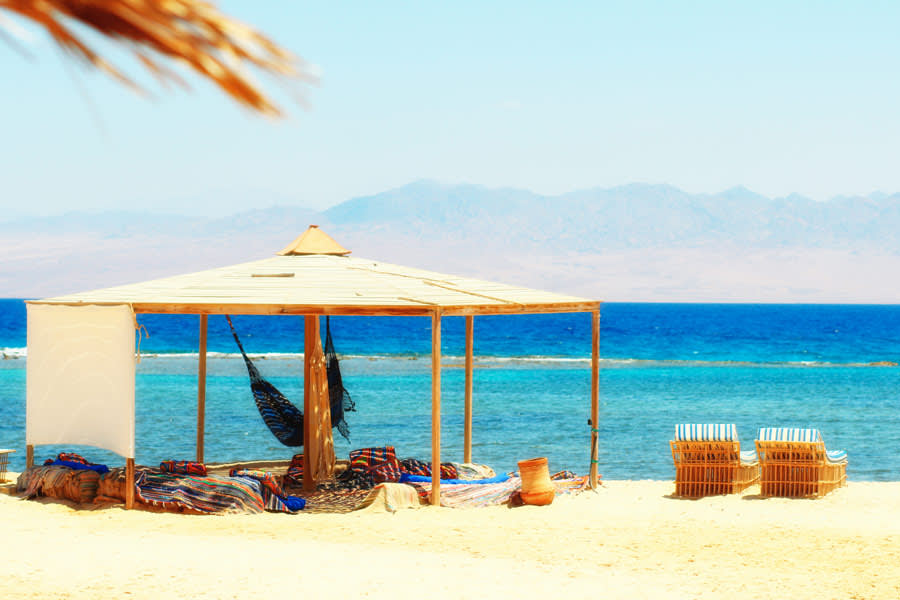 We have grouped together these two South Sinai desinations as they are very nearby to each other and have the same kind of features. Ras Shitan offers extraordinary diving locations and beautiful beaches in a relaxing, bohemian environment. It is very similar to Nuweiba but is a bit more secluded and back to basics. Nuweiba is a bit more alive, offering rustic camps perfect for someone looking to completely reset and immerse themselves fully in nature. Of course, due to its almost pristine conditions and environmental preservation, Ras Shitan has a world of stunning wildlife and aquamarine life that can't be found anywhere else in the world. It is the perfect spot for diving, snorkeling, scuba diving, mountain hiking and swimming.
Fjord Bay, Taba
A paradise in its own right, this unique, underrated location is known for its incredible biodiversity and one-of-a-kind coral reefs. This is the perfect spot for diving enthusiasts looking to catch a glimpse of one of the world's most unique underwater attractions. Straddling the border with Eilat, Israel, Fjord Bay is only 15 kilometers away from the more popular beach town of Taba. It is a good idea to pass by these two spots if you have a bit of time to spare.
Marsa Matrouh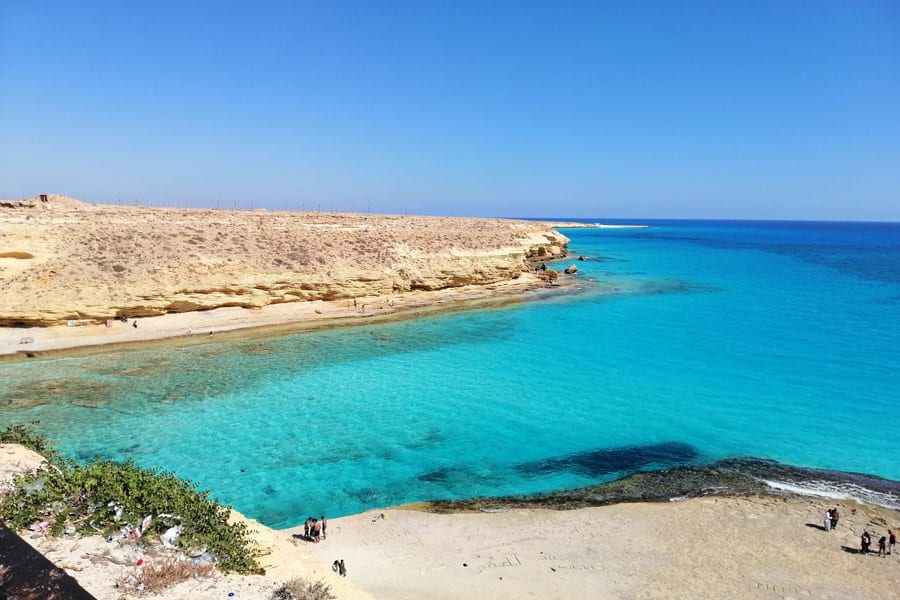 A popular local spot just west of the more luxurious North Coast, the tiny port town of Marsa Matrouh is more affordable destination for those wanting to experience Egypt's stretch of the Mediterranean. It is perfect for more budget trips but without mincing on comfort. The beaches are sandy, the waters are perfect for an exhilarating summer beach day. If you want a more family-friendly environment, Marsa Matrouh is the ideal location. You can enjoy the beach all day long in a relaxed setting while also enjoying a lot of water sports and delicious food.
If time permits and your schedule is flexible enough, it might be smart to head over to Siwa, which is only a couple of hours away by car. The five hours of driving is definitely well-worth it as you will be able to check off two very unique locations. Since you saved money on your Marsa Matrouh trip, you can direct some of those savings into a Siwa trip.
Abu Galoum and Blue Lagoon in Dahab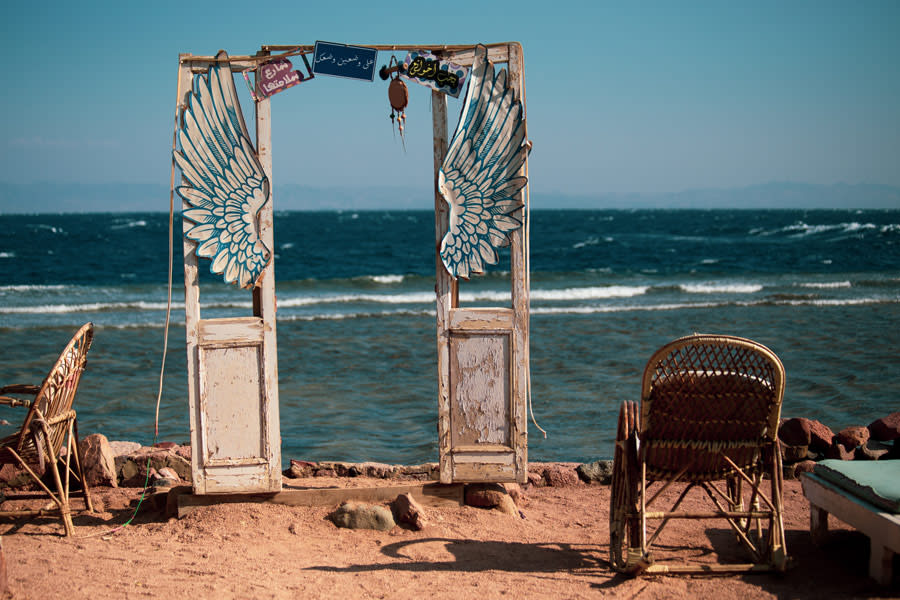 Dahab offers some of the most pristine and underrated beaches in Egypt. Within this South Sinai paradise on earth, there is a bunch of different beaches and water locations that cans satisfy even the most experienced and well-traveled divers and snorkelers. At Ras Abo Galoum, an island in the middle of the Red Sea only accessible by boat, watch the traditional Bedouin life and unique Sinai terrain unfold in front of your eyes. It has a glimmering blue patch of sea that is absolutely packed with incredible wildlife, fish species, vibrant coral reefs and beyond.
A unique mix of desert landscapes and water vistas, the nearby Blue Lagoon is one of the most brilliant sites in all of Sinai. It is highly secluded, needing multiple forms of water and land transportation to get there but is definitely well-worth it.