As a traveler who loves going to places that have spectacular historical artifacts, the Amun Temple Enclosure should certainly be at the top of your scale of preference. It is a beautiful place harboring so many historical facts and artifacts. It doesn't matter what your purpose is, be rest assured you'll have a trip that will leave you thrilled.
The Amun Temple enclosure is the biggest complex in the Karnak Temple, sharing the same vicinity with historical edifices such as the Mut complex and the Khonsu complex. Among the three temple complexes (Amun, Mut, and Khonsu) it is only the Amun Temple that is open to the public to access.
Did you know that Amun was the local god of Karnak (Luxor), while he became the preeminent state god of the New Kingdom during the reign of the princes of Thebes who ruled Egypt? This is why the Temple reflects the status of the god. And also, at the peak of its power, the temple owned 421,000 heads of cattle, 65 cities, 83 ships and 276,400 hectares of agricultural land, and 81,000 people working for it. These and many more are the reasons why you can't afford to miss paying a visit to the Amun Temple Enclosure.
Endeavour to read this article to the end as you will discover many things about the Temple which include:
Where Amun Temple is Located
What to Expect from the Amun Temple
Tips for Visiting the Amun Temple
Where to Stay Around Amun Temple
Where is Amun Temple Enclosure Located?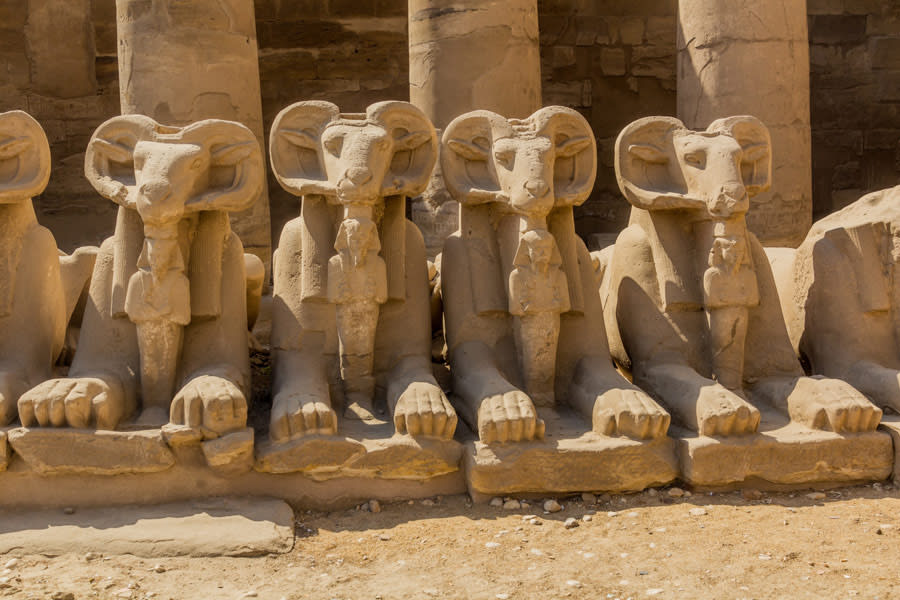 The Amun Temple Enclosure usually was built along two axes running both east/west and north/south. Its edifice took place over many centuries ago at the order of different Egyptian kings. The Amun Temple is located inside the Karnak Temple which is an ancient Egyptian temple located on the east of the Nile River in Thebes (modern-day Luxor), Egypt.
The next question you might want to ask is how to get there: you can get there through different means of transportation depending on your location. If you are in Egypt then you can get there by car or flight based on the one that you're comfortable with. Also, if you're not too far off from the enclosure then you can walk. It all depends on the one that is conducive for you.
When visiting from outside Egypt, you can board an international flight to Cairo, then from Cairo International Airport to Luxor airport is about 1 hour and costs around $90 USD or more. Or you can take a 9-hour train for about $10 USD or more. Note that these prices are not static.
Once you get to Luxor airport or train station getting a car to the Temple is not difficult as it is a popular place. Alternatively, you can use the help of tour operators that offer you customizable trips to and fro your desired location. This option allows you to have a feel of the Egyptian experience while on your tour.
What to Expect from the Amun Temple Enclosure
There are so many mind-blowing experiences to expect from visiting the Amun Temple enclosure. Most of these relics have been there for thousands of years. Let's look at some of them:
The Avenue of Sphinxes: these statues lined up in a processional way leading to the temple. They are sphinxes with the head of a ram which is why they are also called "criosphinxes."
The First Pylon: which can also be seen as a tower and was built by Nectanebo I but actually was left unfinished. The Avenue of Sphinxes leads to it.
The Great Court: was built by Ramses II and his statue flanks the entrance of the Second Pylon.
The Second Pylon: this was built by Horemheb also was left unfinished, and was continued by Ramses I.
The Great Hypostyle Hall: this was built by Seti I and completed by Ramses II. This hall covers an area of about 50,000 sq. ft. and contains 134 gigantic pillars with attractive capitals.
The Obelisks: this was built by Thutmose I and is 22 meters tall. This Obelisk is called "Obelisk of Thutmose I."
The Festival Hall of Thutmose III: this hall is supported by 32 square pillars.
The Seventh Pylon: on this pylon, a relief depiction of Thutmose III defeating his enemies can be seen.
The Sacred Lake: a site in the southeastern part of the temple which was constructed by Tuthmosis III and was used by the priests for purification ceremonies.
There are many more to see in the temple, you will be wowed at the sight of these and many more things in the Amun Temple.
Tips for Visiting Amun Temple
There are principles to follow in order to get the best out of your visit to Amun Temple Enclosure.
Take Note of the Kinds of Tour Schedule
Full or half-day Temple tours; meant for those who have limited time to stay in Egypt, this kind of tour is recommended.
Multi-day tours; that are designed for those who have more days to spend in Egypt. If you plan on staying for a couple of days or weeks, then this type of tour is recommended for you.
Whatever choice you make, prepare yourself ahead of time.
Visiting Independently
When traveling independently to the Temple, know that you're not alone. There are many other travelers like you. Be open to limitless opportunities. You might want to take the sleeper train which costs $110. You also take a taxi to Luxor that is if you're in the neighboring city it is generally $5 or so.
Entry Fees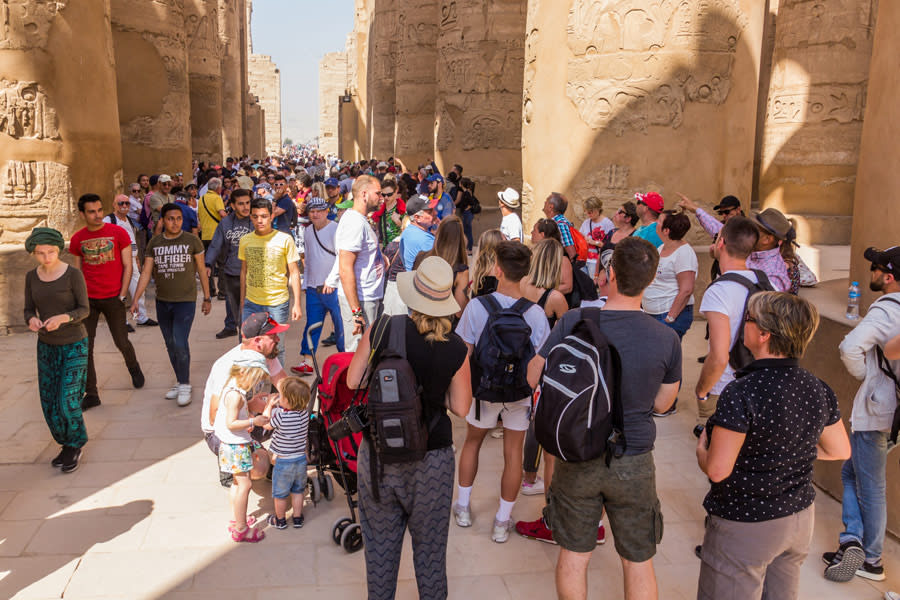 The Luxor Temple entrance fee costs 160EGP which is about £7 or $8. And if you are a student your ID card would be necessary as it will aid in the reduction of the fee.
Days of visiting the Temple: Monday to Sunday
Time of visiting the Temple: 6:00 am to 10:00 pm.
Where to Stay Around the Amun Temple Enclosure
There are fascinating and luxurious places (hotels) around the Amun Temple enclosure that you can stay or lodge at;
El Masala Hotel which is 1.9 miles from the temple.
Venus Hotel which is 1.4 miles away from the temple.
Hilton Luxor Resort & Spa which is 0.9 miles away from the temple.
You can get comfortable accommodations at an affordable cost that provides microbus services along with a tour guide while at the hotel.
Conclusion
Amun Temple has so many historical artefacts and it's really a beautiful sight to behold. This thousands-of-year edifice contains amazing facts and discoveries you can use for your book projects, documentaries, etc. Whatever the purpose may be, rest assured it is a trip worth taking.